well well well. hello there 2009, how you doin'? been gone for a looong time since when. anyway. some infos for y'all. couple of shows coming up here in the country, and this year looks like a very positive time for bands touring in our shores. first up: second combat/motivation tour (feb '09)
(no bulacan flyer yet btw)
if you still haven't checked out these bands then by golly you should right now:
http://
www.myspace.com/secondcombat
http://
www.myspace.com/xmotivationx
http:// www.myspace.com/deadpits
i'm specifically stoked to see second combat, ever since i heard their song "this is the reason i stay" i got goosebumps all over me. haha. dead pits also gets a nod in my book, tho i have yet to hear a song that i could understand since all the songs i've heard are in indonesian, maybe i'll have to check out more songs from them. will have yet to check motivation's music but i'm all for posi- bands, so it's probably good! i'm already sure on the manila leg, killer line-up btw, but i'd have to check if i could also be available for the laguna leg since the scene there is great and cookin'. mad props for all the organizers making this thing happen. kudos! :D
another wicked tour coming up: antagonist ad/mouthful of air/ forgive/ sidekicks: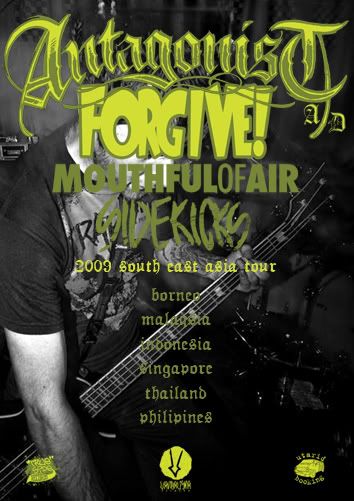 note: listen to mouthful of air, listen to mouthful of air! hahaha.
this tour is gonna be around march 21-23 as i've read about it in diypinoy, so there's plenty of time for you guys to save up and listen to the bands here. there will be a baguio leg, manila leg and i think the last one will be in cavite but i'm not totally sure about that. anwyay, antagonist ad(australia) and mouthful of air(malaysia) is already a go for the philippine leg but forgive (singapore) will not be able to play here in the country for some reasons and sidekicks (singapore) is also still unsure. sad. btw, have i told you that i liked mouthful of air? no? hahaha! if you have time do check these guys here:
http://www.myspace.com/antagonistad

http://www.myspace.com/mouthfulofair
http://www.myspace.com/sidekickssg
http://
www.myspace.com/forgivehxc
other notes:
*
that
plan, you know,
that plan,
will be pushing through this second half of 2009, so just wait up and help us out if you want, the more the merrier i say, tho i dunno if these things are still all worth it, as i am losing faith in the people around the pinoy skramozzsphere, but i'm still in it for the music, it'll always will boil down to the love of it, always. i assure you that i'll work my ass to make it happen and we'll take things from there, be it another show or the demise of it or whatever.
*a physical copy of ptwda yes? no? >:P
*school is starting to suck. argh.
have a great week you guys. til the next update. sorry if i haven't uploaded anything today, i'll make it up sometime. ciao